<!Right hand column>

---

Free Shipping!
On all Robert Sorby orders over $50.00 within the 48 states.
---
Robert Sorby Sculpture Tools


Robert Sorby created these chisels with wood sculptors in mind. These tools feature the most widely used profiles for working large sections of timber. Massively proportioned, yet beautifully balanced, to handle heavy duty cuts as required. All of the Robert Sorby sculpture chisels are fitted with heavy duty double hooped handles and shock absorbing leather washers.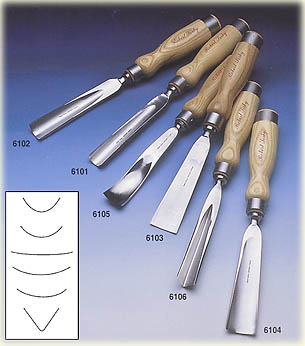 Sculpture Tools - Overall Length 13 inches
Stock #
Size & Description
Price
Qty
Buy
6101
7/8" 22mm Straight Gouge
$49.95
6102
1" 25mm Straight Gouge
$49.95
6103
1-1/2" 38mm Straight Gouge - Shallow Sweep
$59.95
6104
1-1/2" 38mm Straight Gouge - Medium Sweep
$59.95
6105
1-1/4" 32mm Bent Gouge
$59.95
6106
7/8" 22mm V Tool
$59.95