<!Right hand column>

---

Free Shipping!
On all Robert Sorby orders over $50.00 within the 48 states.
---
Robert Sorby
Multi Purpose Sharpening Table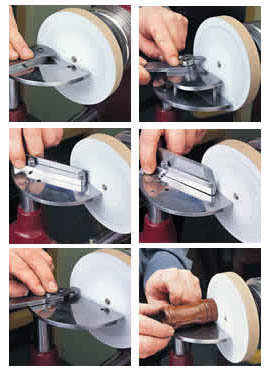 The Robert Sorby Sharpening Table has been specifically designed as an aid to sharpening woodworking tools that should not be taken to the bench grinder. The short coming of a bench grinder is that it produces a hollow grind, which should be avoided with those tools which require an even contact like a turner's skew chisel.

The Multi Purpose Sharpening Table from Robert Sorby should be used on a lathe in conjunction with the Honing Kit (Ref 470). The Robert Sorby design incorporates a cross guide at pre-set angles, e.g. 15° for skew chisels, 20° for paring chisels, 25° for firmer chisels, 30° for mortice chisels. Full sharpening instructions are included.

One of the most difficult tasks for the turner is resharpening High Speed Steel (HSS) tool tips. Fingers can be injured or excessive steel removed. When the Robert Sorby Sharpening Table is used with the Robert Sorby Honing Kit, those difficulties are immediately eliminated. The table provides 80° and 90° angles. This is an indispensible accessory for keeping your HSS tools in tiptop condition.

The Robert Sorby Multi Purpose Sharpening Table can also double as a sanding table. The 45° is ideal for sanding mitres.
---
SOLD OUT!
---
Item #
Description
Price
Qty
Buy
W471/13
Multi Purpose Sharpening Table
With 1/2" (13mm) Stem
SALE!
$48.95
W471/19
Multi Purpose Sharpening Table
With 3/4" (19mm) Stem
SALE!
$48.95
W471/28
Multi Purpose Sharpening Table
With 1 1/8" Stem
SALE!
$48.95
W471/30
Multi Purpose Sharpening Table
With 30mm Stem
SALE!
$48.95
L765/S19
3/4" (19mm) Stem (Diameter: 0.746")
SALE!
$11.95
L765/S28
1-1/8" Stem (Diameter: 1.115")
SALE!
$11.95
L765/S30
30mm Stem (Diameter: 1.179")
SALE!
$11.95
470
Sharpening/Honing Kit
Kit contains: 2 x 5" predrilled MDF discs, 1 x 5" leather disc, 2 x 5" 80, 150 & 320 grit self-adhesive, aluminum oxide abrasive discs, 1 x 150g ultra-fine honing compound. 1 x disc driving screw/plate/nut & 1 "How To Use" Booklet.
SALE!
$49.95