<!Right hand column>

---

Free Shipping!
On all Robert Sorby orders over $50.00 within the 48 states.
---
Closeout Sale!
Limited quantities available.
---
Robert Sorby
Micro Carving Chisels


Robert Sorby micro-carving chisels are manufactured to the same exacting standards as the full-size chisels, they are simply sized smaller for finely detailed carving work.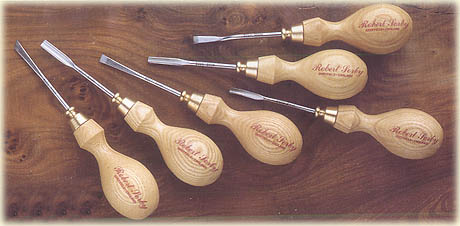 512 - Set of 12 Robert Sorby Micro Woodcarving Chisels
The set consists of the following 12 chisels: Square Chisel 5mm, Skew Chisel 4mm, Dog Leg Chisel 5mm, Straight Gouges, 2mm, 3mm, 4mm, 5mm and 5mm, Bent Gouges 3mm and 5mm, Veiner 2.5mm and V Parting Tool 3mm.
SOLD OUT!

The Robert Sorby micro-carving tool set comes in a fitted masonite box. When not in use the tools are securely held for carrying. During use, the case makes a very useful free-standing tool cabinet. The provision of additional slots in each of the two brass hanging rails allows the tools to be safely suspended and easily accessible.