<!Right hand column>

---
Liquidation Sale
After 22 years in business, we are ready to retire. We are now closing out all of our new product inventory.
We will continue to sell antiques & antique tools in retirement.
---
Dubuque Clamp Works
Wooden Jaw Hand-Screw Clamps


The wooden jaw hand screw is the one type of clamp that every cabinetmaker must have. This style of clamp has been a staple for well over a century. Today, many clamps of this style don't measure up quality wise. Some really sorry knock-offs are being imported from Asia and the quality of some traditional makers has declined. The Dubuque Clamp Works in Dubuque, Iowa is a small company where the owner still oversees the quality. It makes a difference!

All of the wooden clamps offered by The Best Things are made in the USA by the Dubuque Clamp Works , to the same standards that clamps were made to 100 years ago. The finest grade of maple is used, along with the best quality design and workmanship. The screws have a true Acme thread, just as the originals did. Other brands have switched to an easier to manufacture conventional thread that does not allow as much clamping force to be exerted. These are truly the best available by no small margin.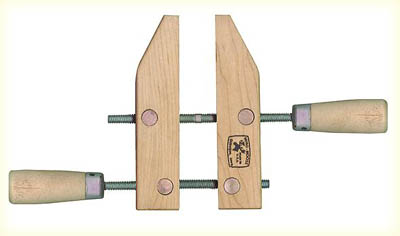 ---
These clamps have been discontinued by us since we are closing down our business, not the manufacturer. They are excellent clamps and we highly recommend them.
---
SOLD OUT!
---
Jaw Length
Open Capacity
Working Reach
Spindle Diameter
Price
Qty
Buy
4"
2 1/4"
2"
1/4"
-
5"
2 3/4"
2 1/2"
1/4"
$15.95
6"
3"
3"
5/16"
-
8"
5"
4"
7/16"
-
10"
7"
5"
7/16"
$22.95
12"
9 1/4"
6"
7/16"
$25.95
14"
10 1/4"
7"
7/16"
$31.95