<!Right hand column>

---

Free Shipping!
On all Robert Sorby orders over $50.00 within the 48 states.
---
Robert Sorby Stebcenters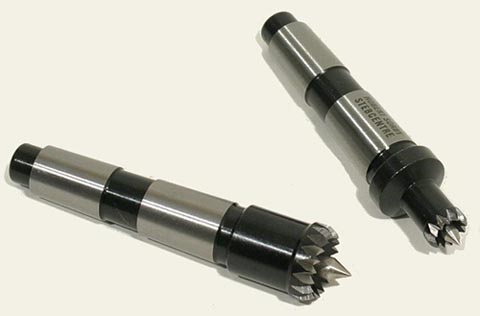 Gerry Stebbings invented the Stebcenter, which has become a very popular type of lathe center. Gerry has now sold Robert Sorby the rights to manufacture the famous Stebcenters, or as we would say here in the states, Stebcenters. The Stebcenter is an excellent tool for experts and amateurs alike. Robert Sorby Stebcenters are available as drive centers and now also as live centers. Using the Robert Sorby live (revolving) Stebcenters gives increased security, with its superior grip on the workpiece, and also allows the turner to experiment with off-center or eccentric turning. All Robert Sorby products are Made in the UK.
---
SOLD OUT!
---
Introduction

Turning
Eccentric
Spindles

Turning
Multi-Sided
Bowls
Robert Sorby Drive Stebcenters
Item #
Description
Price
Qty
Buy
STB150
Robert Sorby Stebcenter 1/2" 1MT
SALE!
$49.95
STB132
Robert Sorby Stebcenter 1 1/4" 1MT
SALE!
$49.95
STB250
Robert Sorby Stebcenter 1/2" 2MT
SALE!
$49.95
STB232
Robert Sorby Stebcenter 1 1/4" 2MT
SALE!
$52.95
STB332
Robert Sorby Stebcenter 1 1/4" 3MT
SALE!
$54.95
STBCHUCK13
Robert Sorby Stebcenter 1/2" Head, mounts in Chuck
SALE!
$59.95
STBCHUCK32
Robert Sorby Stebcenter 1 1/4" Head, mounts in Chuck
SALE!
$54.95
Robert Sorby Live (Revolving) Stebcenters
Item #
Description
Price
Qty
Buy
RCSTB150
Robert Sorby Stebcenter 1/2" 1MT
SALE!
$54.95
RCSTB100
Robert Sorby Stebcenter 7/8" 1MT
SALE!
$54.95
RCSTB132
Robert Sorby Stebcenter 1 1/4" 1MT
SALE!
$64.95
RCSTB250
Robert Sorby Stebcenter 1/2" 2MT
SALE!
$59.95
RCSTB232
Robert Sorby Stebcenter 1 1/4" 2MT
SALE!
$64.95