<!Right hand column>

---

Free Shipping!
On all Robert Sorby orders over $50.00 within the 48 states.
---
Robert Sorby Center Steady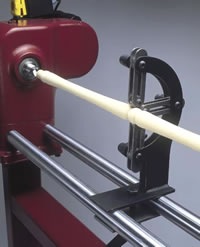 The Robert Sorby Center Steady is what we normally call in the US a steady rest or sometimes a center rest. Whatever you choose to call the Robert Sorby Center Steady, this is a first quality tool that is essential for doing long spindle turning. A steady rest is used to support long spindles between the centers. The steady rest can be moved if necessary to be close to where the turning is being done to prevent vibration in the spindle. The Robert Sorby Center Steady has bearings that contact the workpiece to leave the minimum marks on the work. The old style steady rest did not have rotating contact points and would leave heavy marks where they contacted the spindle. All Robert Sorby products are made in the UK.
---
SOLD OUT!
---
Item #
Description
Center Height
Price
Qty
Buy
761A
Robert Sorby Center Steady (Steady Rest)
140 - 180mm
5 1/2 - 7"
SALE!
$89.95
761B
Robert Sorby Center Steady (Steady Rest)
180 - 225mm
7 - 9"
SALE!
$89.95
761C
Robert Sorby Center Steady (Steady Rest)
225 - 265mm
9 - 11"
SALE!
$89.95