<!Right hand column>

---
Liquidation Sale
After 22 years in business, we are ready to retire. We are now closing out all of our new product inventory.
We will continue to sell antiques & antique tools in retirement.
---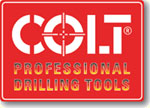 Horst Miebach Brad Point Wood Bits
The Horst Miebach Company is a premier quality maker of drill bits in Europe. We offer two lines of Miebach brad-point bits for woodworking, the "Colt 5 Star" line and the "TwinLand" line. The Miebach "Colt 5 Star" line are the top-of-the-line bits and offer some patented innovations, but the Miebach "TwinLand" bits are also high quality German made brad point bits with some innovative advantages related to the land design, which allows the bits to run truer even with hand-held drills.
The Miebach "Colt 5 Star" line is an innovation in brad-point drill bits featuring a patented land design which clears chips more effectively than conventional bits and a patented tip design that cuts through without creating significant tear-out like conventional brad point bits. With the Miebach "Colt 5 Star" bits, you can drill through without using a backing board and still get a clean exit hole. For drilling into wood, there is no better drill bit made than a Miebach "Colt 5 Star". The performance of these bits is dramatically better than the Asian made brad point bits that are commonly available on the market today and significantly better than even good quality Western made bits.
The Miebach "TwinLand" line of brad-point bits offer a high-quality, yet economical, alternative to the Miebach "Colt 5 Star" line. The "TwinLand" design of this Miebach line has two major advantages over conventional bits. The two closely spaced lands of the "TwinLand" bits clear chips more effectively, and thus prevents chip burn by eliminating the problem of chips clogging the lands and then generating enough friction to burn the hole. The second advantage of this Miebach design is that the two lands offer more support to the sides of the bit, which encourages the bit to run truer even with a hand-held drill. The Miebach "Colt 5 Star" line also uses a twin-land design, and offers these same advantages, but it is a different design which is geometrically more complex and thus more costly to manufacture.
---
SOLD OUT!
---
Horst Miebach "Colt 5 Star" Brad-Point Wood Bits
(Made in Germany or France)


Click on Image to Expand

M2 high speed tool steel
Precise control at up to 25 degree entry angle
Cleaner holes with less burn
Cleaner exit holes with minimum tearout
Drills faster than most other bits

The "Colt 5 Star" brad-point bits by Miebach are available in Metric and US sizes.
Size
Description
Price
Qty
Buy
Set
Set of 7 US Size Miebach "Colt 5 Star" Bits
1/8", 3/16", 1/4", 5/16", 3/8", 7/16", & 1/2" sizes
SALE!
$64.95
Set
Set of 7 Metric Size Miebach "Colt 5 Star" Bits
4mm, 5mm, 6mm, 7mm, 8mm, 10mm & 12mm sizes
SALE!
$54.95
4mm
Miebach "Colt 5 Star" Bit
SALE!
$3.25
9mm
Miebach "Colt 5 Star" Bit
SALE!
$6.45
10mm
Miebach "Colt 5 Star" Bit
SALE!
$7.95
Horst Miebach "TwinLand" Brad Point Wood Bits (Made in Germany)


Click on Image to Expand




Precise control at up to 25 degree entry angle
Cleaner holes with less burn
Precisely ground with diamond wheels
Twin-Land design helps to steady bit and drill truer holes

The "TwinLand" bits by Miebach are available in metric and US sizes.
Size
Description
Price
Qty
Buy
4mm
Miebach "TwinLand" Bit
SALE!
$2.50
6mm
Miebach "TwinLand" Bit
SALE!
$3.50
12mm
Miebach "TwinLand" Bit
SALE!
$5.50
30mm
Miebach "TwinLand" Bit
SALE!
$14.95