Home

<!Right hand column>

---
Liquidation Sale
After 22 years in business, we are ready to retire. We are now closing out all of our new product inventory.
We will continue to sell antiques & antique tools in retirement.
---
Hishika Japanese Hand Saws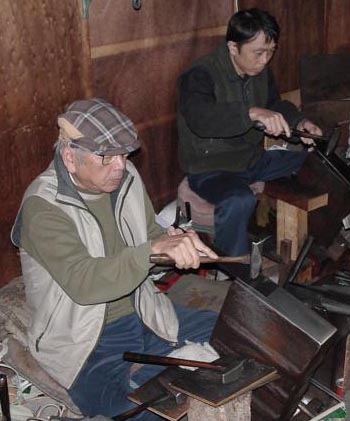 The Japanese tradition of woodworking has some fundamental differences from Western woodworking. One of those fundamental differences is that Japanese saws cut on the pull stroke. Many people who are comfortable with the Western style of saw find this awkward at first, but there are some undeniable advantages. It is possible with a pull stoke saw to make the blade much thinner than on a push type saw, since a pull-stroke saw does not need to have any inherent rigidity. This allows the blades on Japanese saws to be dramatically thinner than even the best Western saws. The thin kerf of a Japanese saw means that less material is removed, which translates directly into less effort being exerted by the user. The teeth on fine toothed Japanese saws, are shaped differently than Western saws. On the finest quality saws, like those of Hishika, these teeth leave a glass smooth surface.
Hishika makes high-end hand made Japanese saw in the best tradition of Japanese sawmaking, as well as more modestly priced machine made saws which are also the best in their class. The market for Japanese saws is dominated today by machine made saws, which are much less costly to produce, but a fine hand-made saw like the Hishika hand made saws do have distinct performance advantages over their machine made counterparts that will appeal to the connoisseur.
Features of Hishika Hand-Made Saws that are not found on any Machine-Made Japanese Saws
Blade thickness tapers towards the back, and from top to bottom, to reduce friction and give the cleanest cuts. This is very time consuming and tedious to do on such thin blades, but it makes a huge difference in performance.
The blade backbone is slightly curved for more effective sawing. This is very important for dovetail saws.
The whole blade is hardened for flexibility as well as hardness.
Blades are hardened one at a time, as has been done traditionally in Japan.
Blades are hand-hammered to flatten and relieve stress, as was also done on Western saws until the mid-20th Century when cold rolled steel completely took over in saw making. This is one reason why pre-War western style saws are superior to any similar western-style saws made today.
Blades are hand hammered to tension the blade so that it will remain straight as the blade heats up during vigorous use.
Hishika hand made saws are intended to be resharpened and to last a lifetime.
Hishika Bessho Tara saws are a special extra high-grade hand made saw with very limited production.
Hishika Hand-Made Douzuki Saws for Dovetailing


Click on Image to see the Hishika Bessho Tarro Hand-Made Douzuki.


Hishika Hand-Made Douzuki Saws
Hishika Douzuki (also spelled Dozuki in the US) Saws are Japanese rip-cut dovetailing saws. Douzuki saws have a rigid steel back and very fine teeth (20 PPI). The saw pictured above is the hand-made Hishika Douzuki. Click on the image to see the Hishik Bessho Taro (ultimate grade) hand-made Douzuki.
Stock #
Description
Size
Price
Qty
Buy
HI-180DR
Hishika Douzuki (Dovetail) Saw
Rip Cut - 20 PPI
180mm
(7") blade
$94.95
HI-240DCC
Hishika Douzuki (Dovetail) Saw
Cross Cut - 20 PPI
240mm
(9 1/2") blade
SALE!
$89.95
HI-240DR
Hishika Douzuki (Dovetail) Saw
Rip Cut - 20 PPI
240mm
(9 1/2") blade
SALE!
$89.95
HI-240BTDCC
Hishika Bessho Taro (Ultimate Grade) Douzuki (Dovetail) Saw
Cross-Cut - 32 PPI, .2mm thick
240mm
(9 1/2") blade
SALE!
$139.95
Hishika Douzuki Machine-Made Saws for Dovetailing


Click on Image to Expand


Hishika Douzuki Saws - Machine Made
Hishika Douzuki (also spelled Dozuki in the US) Saws are Japanese rip-cut dovetailing saws. Douzuki saws have a rigid steel back and very fine teeth.
Stock #
Description
Size
Price
Qty
Buy
HI-G150
Hishika Douzuki (Dovetail) Saw
Rip Cut - 20 PPI
150mm
(6") blade
SALE!
$29.95
HI-G150SB
Hishika Douzuki Replacement Blade
150mm
(6") blade
SALE!
$19.95
HI-G210
Hishika Douzuki (Dovetail) Saw
Rip Cut - 20 PPI
210mm
(8 3/8") blade
SALE!
$31.95
HI-G210SB
Hishika Douzuki Replacement Blade
210mm
(8 3/8") blade
SALE!
$22.95
HI-G240
Hishika Douzuki (Dovetail) Saw
Rip Cut - 20 PPI
240mm
(9 1/2") blade
SALE!
$36.95
HI-G240SB
Hishika Douzuki Replacement Blade
240mm
(9 1/2") blade
SALE!
$26.95
Hishika Hand-Made Ryoba Saws


Click on Image to see the Hishika Bessho Tarro Hand-Made Ryoba.


Hishika Hand-Made Ryoba Saws
The Hishika Ryoba saws features a hand made saw blade hardened piece by piece by hand as has been done traditionally in Japan for centuries. The whole blade is hardened to have flexibility as well as hardness. The blade thickness is differentiated, i.e., tapering towards the back to produce friction-free strokes and the cleanest cut surfaces. The rip teeth start out more fine and get progressively more coarse towards the end. This is more pronounced on the Bessho Taro (finest grade) Ryoba. The saw pictures above is the standard hand-made Hishika Ryoba. The blade width tapers from about 2 5/8" to 3 1/4". The Bessho Taro is wider, tapering from 3 1/4" to 4 1/8". Click on the picture above to see the Hishika Bessho Tarro Ryoba.
Stock #
Description
Size
Price
Qty
Buy
HI-240RS
Hishika Ryoba Saw
240mm (9 1/2") blade
18 PPI CC
Rip teeth are progessively more coarse towards the end.
SALE!
$89.95
HI-240BTRS
Hishika Bessho Taro
(Ultimate Grade)
Ryoba Saw
240mm (9 1/2") blade
18 PPI CC
Rip teeth are progessively more coarse towards the end.
SALE!
$149.95
Hishika Hand-Made Kugihiki Saws


Click on Image to Expand


Hishika Kugihiki Saws

The Hishika Kugihiki saws features a hand made saw blade hardened one at a time by hand as has been done traditionally in Japan for centuries. The whole blade is hardened for flexibility as well as hardness. The blade thickness tapers towards the back to produce friction-free strokes and the teeth are sharpened with no set to produce the cleanest cuts.

Kugihiki saws are intended for flush cutting of pins and similar applications, and have a cross-cut tooth configuration. The blades are quite fragile and should not be used in applications that might over-stess them, such as cuts that are more than about a half inch in depth, except in very thin stock. Because of the way that the blade is tempered, it will break if too much stress is put on the blade. This is only an issue if the saw is used in a way for which it was never intended.

Stock #
Description
Size
Price
Qty
Buy
HI-180KU
Hishika Kugihiki Saw
180mm
(7") blade
SALE!
$54.95
Hishika Hand-Made Kataba Saws


Click on Image to Expand


Hishika Kataba Saws
Kataba saws have alternating rip and cross-cut teeth, allowing them to work effectively with or across grain. The Hishika Kataba saws features a hand made saw blade hardened piece by piece by hand as has been done traditionally in Japan for centuries. The whole blade is hardened to have flexibility as well as hardness. The blade thickness is differentiated, i.e., tapering towards the back to produce friction-free strokes and the cleanest cut surfaces. Proonly is a term that means "professional use only." This term, the origins of which I don't know, only seems to be used by Japanese sawmakers, but Disston used to mark their no-set saws to indicate that they were for professional use only Disston's wording was, "For Mechanicks, not Botchers." I just love that.
Stock #
Description
Size
Price
Qty
Buy
HI-P180
Hishika Proonly Kataba Saw
Combination rip and cross-cut tooth configuration.
180mm
(7") blade
SALE!
$72.95
HI-P240
Hishika Proonly Kataba Saw
Combination rip and cross-cut tooth configuration.
240mm
(9 1/2") blade
SALE!
$74.95

Special Purpose Kataba Saws

HI-120CRST
Hishika Sennensakura Proonly Kataba Saw for Delicate Work
Optimized for extra fine work.
120mm
(4 3/4") blade
SALE!
$34.95
HI-210KK
Hishika Proonly Kataba Saw for Hardwood
Special Hardwood Optimized tooth configuration.
16 PPI
210mm
(8 3/8") blade
SALE!
$69.95