<!a href="fein_vacuums.htm">Vacuums & Dust Extraction

<!Right hand column>

---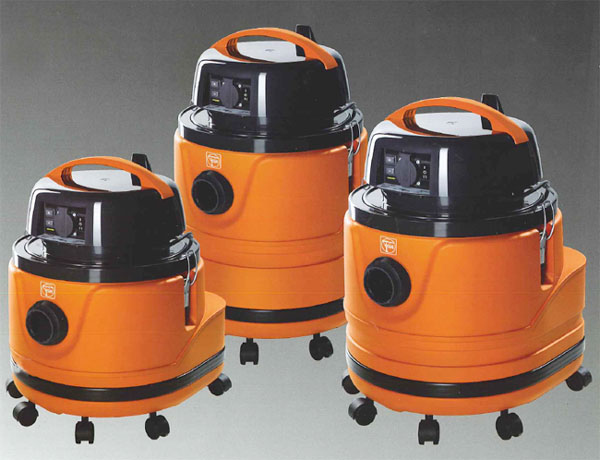 Fein Tools Vacuums/Dust Extractors


---
Closeout Specials
---
Fein vacuums, like all Fein power tools, are made to the very highest standards to meet the demands of the professional tradesperson. Not only are Fein vacuums powerful, but they are quiet as well. If you are used to the scream of a typical shop vacuum, it will be a real revelation the first time that you hear a Fein in operation. Even the smallest Fein is still quiet and powerful, and built to last for years of daily professional use. All of the Fein vacuums are equipped with an auto-start feature, so if you plug your power tool directly into the Fein vacuum, it will start up automatically when you start the tool. I never operated my Delta 14" bandsaw without having it connected to the Fein vacuum. Just flip on the saw, and the Fein vacuum purrs to life. Even though my old Delta bandsaw was never designed to run dust free, running it with the Fein vacuum attached dramatically reduces the dust produced. I would not think to run my bandsaw in the house without the vacuum, the difference is that pronounced. With tools that are designed to run dust free with a vacuum, like with my Bosch orbital sander, the results are truly amazing when the sander is connected to the Fein vacuum. A few of us at the office are so impressed with the Fein vacuums, that we have bought the small version as our primary vacuum for the entire house. If you don't want a beater attachment for your rugs, the Fein makes an amazing all purpose vacuum, and you can even use the Fein to suck up liquids, but take the bag out first!

Durable, Compact and Quiet
The all new Fein dust extractors have a new optimized shape and 6 wheels instead of 4 for added stability. And, at an average 60 decibels, they are far quieter than most other popular vacuums.

Tremendous Static Water Lift
At 90 to 99 inches of water lift, Fein dust extractors produce far greater suction than the competition.

New Electronic Suction Control
All Fein dust extractor models come with a variable suction control. You can adjust the power via a simple and durable switch. The current setting is shown by an easily understandable and readable LED indicator. Variable suction control saves energy and reduces the noise level to an absolute minimum.

Powerful Heavy-Duty Motor
All Fein dust extractors are designed for heavy-duty, continuous industrial use and employ dual fan turbo cooling to extend motor life.

Wet or Dry Use
All Fein dust extractor models can be used wet or dry with an optional foam filter and have accessory filters available that captures particles down to .3 micron (HEPA).

Dust-Free Sanding
The Fein dust extractors, when combined with Fein's random orbit sanders, are an integral part of Fein's 98% dust-free sanding system. Plug your random orbit sander directly into a Fein dust extractor. The tool's switch turns the dust extractor on and off and provides a 10 second delay after shut-off to clear the hose.

Features:

Durable, reliable, quiet and powerful.
Autostart for dust extraction when connected to your power tool with input of 5 to 2,000 Watts.
Can be used as a wet dust extractor with optional anti-foam filter.
FEIN Turbo cooling technology uses a dual fan motor to prevent electrical damage and extends the life of the motor.
FEIN dust extractors are the perfect combination of portability and power.
A wide variety of accessories are available.
| | | | |
| --- | --- | --- | --- |
| Model: | Turbo I | Turbo II | Turbo III |
| Auto Start | Yes | Yes | Yes |
| Variable Suction | Yes | Yes | Yes |
| Voltage | 120 V | 120 V | 120 V |
| Watts | 1000 W | 1050 W | 1200 W |
| Static Water Lift | 90 in | 90 in | 99 in |
| Air Flow | 116 cfm | 116 cfm | 126 cfm |
| Weight | 17.75 lbs | 28.5 lbs | 36 lbs |
| Power Cord | 16 ft | 16 ft | 16 ft |
| Hose Length | 16 ft | 16 ft | 10 ft |
| Hose Diameter | 1 1/4 in | 1 1/4 in | 2 1/4 in |
| Capacity Dry | 6 gal | 9 gal | 15 gal |
| Capacity Wet | 5.3 gal | 6.8 gal | 12 gal |
| Noise at 3.5ft | 62 dB(A) | 57.8 dB(A) | 57.8 dB(A) |
---
Free Shipping!
On all Fein Tools orders over $100.00 within the 48 states.
---
Item #
Description
Image Click to enlarge
Price
Qty
Buy
9-20-24
Fein Turbo I Dust Extractor
Includes: Round Upholstery Brush, Crevice Tool, 5 Micron Filter Cloth Bag, Rubber Power Tool Adapter, 16 Foot Long Hose (1 ¼" diameter) and 16 Foot Long Power Cord.
-
9-20-25
Fein Turbo II Dust Extractor
Includes: 5 Micron Filter Cloth Bag, 16 Foot Long Hose (1 ¼" diameter) and 16 Foot Long Power Cord.
-
9-20-26
Fein Turbo III Dust Extractor
Includes: 5 Micron Filter Cloth Bag, Step Adapter (2 ¼" to 1 ¼"), 10 Foot Long Hose (2 ¼" diameter) and 16 Foot Long Power Cord.
-
---
Closeout Specials
---

Fein Vacuum Accessories

Item #
Description
Image Click to enlarge
Price
Qty
Buy
913038K01
Dust Bags (x3) for Turbo I Dust Extractor
Use of bags requires that a Filter Bag Kit be Installed on the vacuum. Either a 1 micron or a HEPA Filter can be used. Using a bag without a filter will damage the vacuum motor and contaminate the air with dust.
-
913036K01
Dust Bags (x3) for Turbo II Dust Extractor
Use of bags requires that a Filter Bag Kit be Installed on the vacuum. Either a 1 micron or a HEPA Filter can be used. Special extra-safe Plastic cased bags are available for the Turbo 2 with a HEPA filter. Using a bag without a filter will damage the vacuum motor and contaminate the air with dust.
SALE!
$12.95
913048K01
Dust Bags (x3) for Turbo III Dust Extractor
Use of bags requires that a Filter Bag Kit be Installed on the vacuum. Either a 1 micron or a HEPA Filter can be used. Using a bag without a filter will damage the vacuum motor and contaminate the air with dust.
-
913049P01
Safety Bags (x5) for Turbo II Dust Extractor
These bags are designed to fit the Turbo 2 Vacuum, but some users who require the extra safety of a plastic cased bag, use them in the Turbo 1 and Turbo 3 Vacuums. Use of bags requires that a Filter Bag Kit be Installed on the vacuum. Either a 1 micron or a HEPA Filter can be used. Using a bag without a filter will damage the vacuum motor and contaminate the air with dust.
SALE!
$129.95
913049P01-3
Safety Bags (x3) for Turbo II Dust Extractor
These bags are designed to fit the Turbo 2 Vacuum, but some users who require the extra safety of a plastic cased bag, use them in the Turbo 1 and Turbo 3 Vacuums. Use of bags requires that a Filter Bag Kit be Installed on the vacuum. Either a 1 micron or a HEPA Filter can be used. Using a bag without a filter will damage the vacuum motor and contaminate the air with dust.
SALE!
$79.95
FBK-HEPA1/3
HEPA Filter Bag Conversion Kit for Turbo I & III Vacuum
Convert the Fein Turbo I & III Vacuums to a two-stage HEPA filtration system for use with bags. Includes: HEPA Filter, Flange and Turn Screw. A bag is not included in this kit.
SALE!
$59.95
FBK-HEPA
HEPA Filter Bag Conversion Kit for Turbo II Vacuum
Converts the Fein Turbo II Vacuum to a two-stage HEPA filtration system for use with bags. Includes: HEPA Filter, Flange, Turn Screw, & one Plastic Dust Collection Bag.
SALE!
$64.95
DW3
Dry & Wet Pickup Kit for Turbo III Dust Extractor
Allows Turbo III to be used as a clean up vacuum. Includes: 2 plastic extension tubes, air reduction handle, crevice tool, round brush, upholstery nozzle, floor brush and an anti-foam filter.
SALE!
$94.95
919007K13
Dust Extractor Crevice Tool
For 1 ¼" diameter hose
SALE!
$3.45