---

Sharpening Tools by DMT®
Diamond Machining Technology is the most important manufacturer of diamond stones in the world. As the name implies, DMT® focuses all of there efforts specifically on diamond sharpening technologies. All DMT® products are made in the USA, in New England. Recommending what is the best approach for sharpening is about as controversial as talking politics, but if you have decided that diamond sharpening is what you prefer, we can assure you that there are no better quality diamond sharpening products than those made by DMT®.
---
Closeout Sale! - Limited Quantities
---




Ultra-Coarse 120 Grit DMT Dia-Sharp® Diamond Sharpening Stones

This stone is identical in form to the stones Dia-Sharp® stones available above, but it is not available in the 11 1/2" size. This stone is 8" long by 3 3/8" wide.
Model
Description
Price
Qty
Buy
D8XX
DMT Dia-Sharp® 120 Grit Diamond Stone
$79.95



DMT DuoSharp® Base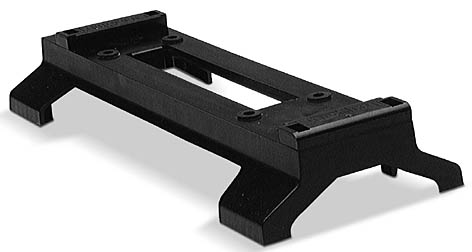 This base is designed to be used with both the 8" and the 10" DMT DuoSharp® stones. While the DMT DuoSharp® stones come with a non-slip pad, the DuoSharp® base is a much handier way to hold the stones.

SALE! Price: $15.95
DMT Dia-Paste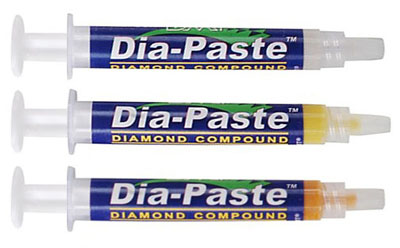 Improve tool performance with DMT®'s easy-to-use Dia-Paste™ Diamond Compound. A light application will create a highly polished, mirror finish, reducing tool friction for a sharper, stronger edge allowing more use between sharpening. Each grit packaged in convenient 2-gram syringe. Package includes one syringe of each:

6 micron / 4000 mesh - removes scratches with light polishing pressure.

3 micron / 8000 mesh - for a glossy bevel edge.

1 micron / 15000 mesh - for the ultimate polished mirror bevel edge.
SALE! Price: $24.95
DMT® Tapered Conical Diamond Honing Slips
| | |
| --- | --- |
| The DMT® DCKF Set of tapered conical diamond honing slips are ideal for sharpening gouges, carving chisels, and any other curved edge tools. The three sized included in this set should cover all of your needs for this typpe of tool. The three diamond slips come in a fitted Cherry wood box that is really quite nice. | |
The three sizes in the set are:
Small 1/8" to 3/8" diameter x 4" cone (3.2 mm to 9.5 mm) with 4" (102 mm) handle.
Medium 3/8" to 3/4" diameter x 6"(9.5 mm to 19.1 mm x 152 mm) half round.
Large 3/4" to 1 1/4" diameter x 8" (19.1 mm to 31.8 mm x 203 mm) half round.
Model
Description
Price
Qty
Buy
DCKF
DMT® Tapered Cones Diamond Slip Stone Set
$85.95