<!Right hand column>

---
Liquidation Sale
After 22 years in business, we are ready to retire. We are now closing out all of our new product inventory. We will continue to sell antiques & antique tools in retirement.
---
Dubuque Clamp Works
Cam Action Bar Clamps


The Dubuque Clamp Works of Dubuque, Iowa offers an innovative new design of a classic clamp. The cast iron cam action clamp was a common site in cabinet shops a hundred years ago. Today, they are no longer available in the original style, and are rarely seen. Now, the a new version of this classic clamp is available from the Dubuque Clamp Works. These clamps use a wooden cam, which is designed in such a way that it can exert considerable pressure without risk of damage to the clamp. Not designed to exert tremendous pressure, these clamps can be very convenient for some applications. Anyone clamping laminated work to a form will consider these clamps to be indespensible. Designed to be drawn up and tighted with only one hand free. Cork padding on the jaw faces prevents damage to your work and helps keep the clamp from slipping. All clamps made by the Dubuque Clamp Works are made in Dubuque, Iowa to the highest standards of Made in USA quality.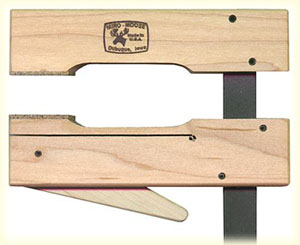 ---
These clamps have been discontinued by us since we are closing down our business, not the manufacturer. They are excellent clamps and we highly recommend them.
---
Jaw Length
Clamp Opening
Price
Qty
Buy
4 1/2"
8"
SALE!
$15.45
Set of 6 clamps 4 1/2" x 8"
SALE!
$84.95
8 1/2"
8"
SALE!
$17.45
Set of 6 clamps 8 1/2 x 8"
SALE!
$89.95
4 1/2"
16"
SALE!
$16.95
Set of 6 clamps 4 1/2" x 16"
SALE!
$89.95
4 1/2"
24"
SALE!
$18.95
Set of 6 clamps 4 1/2" x 24"
SALE!
$99.95