<!Right hand column>

---
Liquidation Sale
After 22 years in business, we are ready to retire. We are now closing out all of our new product inventory.
We will continue to sell antiques & antique tools in retirement.
---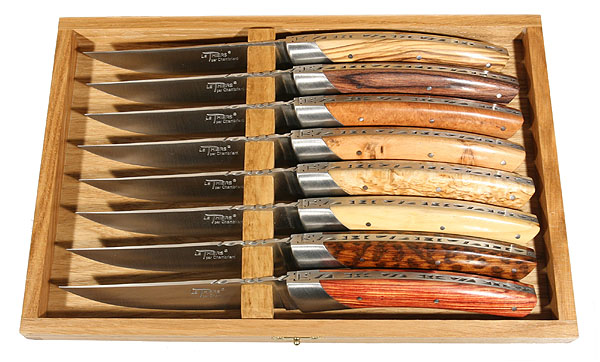 Note: 8pc set is no longer available.
Chambriard Rainbow Steak Knife Set
One of Chambriard's signature products is the "Rainbow" steak knife set, so called because of the rainbow of color created by all the different woods of the handles all lined up in the box. When we first laid eyes on the Chambriard "Rainbow" set, we were floored by its beauty. This is a true connoisseur's product, combining beauty with quality and function. Even the solid oak box in which the Chambriard "Rainbow" set is packaged is of the very highest quality. Of all the products that we sell, these Chambriard knives are one of our top five favorites products.
These knives are made with the finest stainless steel available, Swedish razor steel manufactured by Sandvik.
Description
Price
Qty
Buy
Rainbow Steak Knife Set 6 pc
Includes: Birch Burl, Briar Burl, Juniper, Snakewood, Tulipwood and Olivewood.
SALE! $419.95
Note: Each knife has the English name of the wood laser etched into the shank.