Home

Tool Books
Woodcarving Books
Woodworking Books
Woodworking Videos

Vintage Tools
<!Right hand column>

---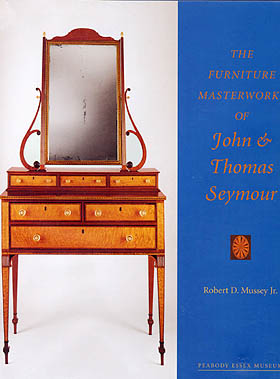 The Furniture Masterworks of
John & Thomas Seymour
Robert D. Mussey Jr.
Out of Print
An innovative social and cultural history of the British roots of Federal style furniture in Boston. In addition to these social and historical findings, the book details a key group of labeled, initialed, or documented Seymour pieces, while also describing the construction and design characteristics which allow us to attribute other pieces to them. High-quality photographs of more than 120 pieces, will enable scholars, dealers, collectors, and curators to reliably identify other furniture by the Seymours. Full-page composite photographs illustrate the complete range of veneer stringing inlays, leg designs, carving designs, and foot designs. In addition to the standard catalogue entries of material, measurements, and provenance, the twenty-five different forms, including tables, chest of drawers, desks, bookcases, and chairs are each accompanied by a description of its social history, use, and meaning in Federal Boston. The Seymours of Boston is the truly indispensable guide to two of the preeminent cabinet makers of Federal Boston.