<!A Href="waterford.htm">Waterford Pens




<!Right hand column>

---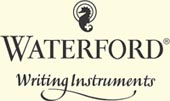 ---
Waterford writing instruments are part of a world renowned brand that has epitomized fine quality and craftmanship for over two hundred years. Choosing a Waterford pen is a testament to not only your good taste, but also to your high standards and attention to detail. Each Waterford pen is an individual masterpiece that will last for generations.

To give a Waterford writing instrument to someone held dear or to yourself says much about you. It is a gift of words...of timeless writing...of days gone by. It is a gift that will be treasured and appreciated now and forever.
---
Free Shipping*
Via UPS Ground or Priority Mail on all Waterford Pen Orders over $25.00
*In the United States only
---
SOLD OUT!
---