Home

<!Right hand column>

---
Universal Clamps by Dubuque Clampworks
For at least the last hundred years, cabinetmakers have relied on iron bar clamps. With the advent of aircraft grade aluminum clamps, we feel that those heavy iron bar clamps are obsolete. The aluminum bar clamps we offer here are made with the finest quality aircraft grade aluminum, making them extremely strong, without the cumbersome weight of iron clamps. If you need any more clamping force than these clamps can provide, which is about 1000 pounds, then you need to go back and fit your work better, or you will be setting up internal stresses in your work that will cause problems down the road. Universal Clamp Company was bought by Dubuque Clampworks and these clamps are now all made in Iowa along wth their famous hand-screw clamps. They were originally made in California, but that is now some years ago. The quality of all Dubuque Clampworks products is truly unparalleled. Trust us on this one, these are the best and most useful bar clamps that any cabinetmaker could own.
---
UC 900 Adjustable Bar Clamp Series
- Each size can accomodate work up to the specified length (i.e. a 24" clamp will handle a 24" piece of work).
- All clamps have a moveable pad with spring action that lock in any of the punched slots that run the length of the bar.
- The clamps will sit upright so that work can be placed on the clamp.



Size
Price
Qty
Buy
24" - Set of 4 clamps
$99.95
24" - Set of 10 clamps
$229.95
36" - Set of 4 clamps
$109.95
36" - Set of 10 clamps
$249.95
48" - Set of 4 clamps
$119.95
48" - Set of 10 clamps
$284.95
60" - Set of 4 clamps
$134.95
60" - Set of 10 clamps
$319.95
72" - Set of 4 clamps
$144.95
72" - Set of 10 clamps
$319.95
Accessories for the UC-900 Series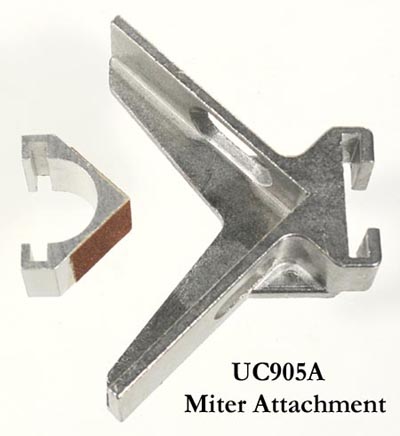 The UC-905A miter attachment pieces slide onto the jaws of the UC-900 aluminum bar clamp. One side fits the outide of a miter and the other piece fits the inside. To span a square object two outside pieces can be used on one clamp. The working surfaces of the inside piece are covered with abrasive paper which helps for the clamp to pull joint tighter as the clamp is screwed tight.
UC-905A Miter Attachment
Item
Price
Qty
Buy
UC-905A miter attachments
$9.95
Set of 4 UC-905A miter attachments
$34.95
Set of 10 miter attachments
$75.95
---
UC-76 Series Wedge Grip Jaw Clamps
Compact & lightweight aluminum face framing clamps.
Patented jaw grips the work close to the joint preventing bowing of long rails.
Very light, thus allowing many clamps to be used and frame to be more easily moved from the work area.
Instantly released with a sharp tap on the U member.
Handles stock thicknesses from 3/4" - 13/16", or larger with the optional Medium or Large Size U members (see accessories)
Optional wedge attachment improves grip on thinner stock (see accessories)

Item
Price
Qty
Buy
Set of 4 UC-76
$99.95
Set of 10 UC-76
$229.95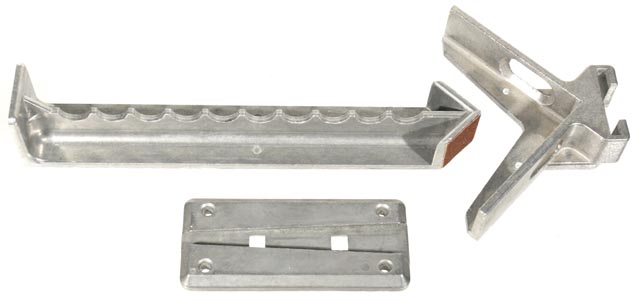 Includes inside and outside jaws and removable clamp base.
Clamp base is drilled and countersunk for permanent mounting.
Miter Attachment for the UC-76

Item
Price
Qty
Buy
Three Piece Miter Attachment Set
$19.95
Set of 4 Three Piece Miter Attachment Set
$69.95
Set of 10 3 Piece Miter Attachment Set
$149.95


UC-76A is a right-angled UC-76 clamp which can pull shelves into cabinet sides eliminating the need for end nailing and filling of nail holes. It will also clamp the four corners of a face frame. It includes the no scuff feature.


Item
Price
Qty
Buy
Set of 4 UC-76A
$99.95
Set of 10 UC-76A
$229.95
Accessories for the UC-76 and UC-76A Series

Item
Price
Qty
Buy
Set of 4 Medium Size U Member for UC76
For Stock Sizes From 7/8" to 1 1/8".
$26.95
Set of 10 Medium Size U Member for UC76
For Stock Sizes From 7/8" to 1 1/8".
$64.95
Set of 4 Large Size U Member for UC76
For Stock Sizes From 1 3/8" - 1 9/16".
$26.95
Set of 10 Large Size U Member for UC76
For Stock Sizes From 1 3/8" - 1 9/16".
$64.95
Set of 4 No Scuff Pads for UC76
Helps to prevent slippage and maring of clamped surfaces.
$19.95
Set of 4 Reduction Wedges for UC76
Allows the clamp to grip slightly thinner stock.
$19.95