<!Right hand column>

---

Free Shipping!
On all Robert Sorby orders over $50.00 within the 48 states.
---
Robert Sorby Eccentric Chuck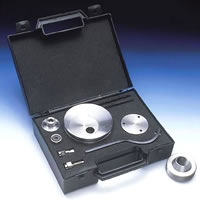 The Robert Sorby Eccentric chuck has a unique design which allows the turner to produce a myriad of irregular shapes accurately and securely. Not only is the Robert Sorby Eccentric Chuck extremely versatile, it also enables complete repeatability. The Robert Sorby Eccentric Chuck is a robust chuck and requires medium to heavy duty lathes. An adapter is included to fit the Robert Sorby Eccentric chuck to your lathe. We stock the 1" X 8" and 1.25 X 8" thread sizes, which are by far the most common headstock spindle thread sizes in North America. For other sizes we will special order the adapter for you, which takes about 10 days for you to receive.
The Robert Sorby eccentric chuck weighs 5.1/2lbs (2.5kgs). This is intended to counterbalance the weight of the workpiece when offset, which gives far more stability than other systems where both the chuck and workpiece are offset from the center, potentially leading to lathe damage or personal injury. The workpiece is fixed so securely with the Robert Sorby Eccentric chuck that a tailstock is not always necessary. There are three fixing methods - faceplate, screw chuck, and ball drive and socket. The unique eccentric boss is marked 0 to 35 on its outside diameter. When set in 0 the workpiece will run concentrically. When located on any other mark in the window you are shown the amount of off set from the central axis. These clear markings ensure not only that dimensions are accurate but also that they can easily be repeated. The Robert Sorby Eccentric Chuck comes with a 12 page instruction booklet, a project booklet, and a computer CD with project ideas.

All Robert Sorby products are Made in the UK.
Item #
Description
Spindle Thread
Price
Qty
Buy
RS60/IDNSJ
Robert Sorby Eccentric Chuck
1" X 8TPI
$295.95
RS60/IYNST
Robert Sorby Eccentric Chuck
1.25" X 8TPI
$295.95
RS60/RSA
Robert Sorby Eccentric Chuck
3/4" X 16TPI
$295.95
RS60/OTHER
Robert Sorby Eccentric Chuck
Specify your headstock spindle thread size in checkout comments. It may take up to 10 days for delivery.
$295.95
RS60/DIRECT
Robert Sorby Eccentric Chuck - Direct threaded unit (no insert)
Specify your headstock spindle thread size in checkout comments. Delivery time varies, please contact us for details.
$345.95