---
Ashley Iles Carving Tool Sets
The sets are chosen from Ashley Iles' range of London Pattern Tools. If you are just starting to build your carving chisel kit, these sets offer a cost effective way to get started. The Ashley Iles chisels in these sets are chosen to offer a good all around selection. Like all Ashley Iles chisels, these chisels have bright polished finish with hardwood handles and brass ferrules.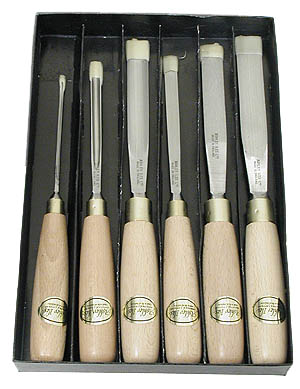 The Ashley Iles York Set
This Ashley Iles set is comprised of six essential tools for the beginning carver, as follows:
V tool 1/4" (6 mm) - No. 39
Viener 1/16" (1.5 mm) - No. 11
Fluter 1/4" (6 mm) - No. 9
Shallow Sweep Gouge 3/8" (9 mm) - No. 3
Medium Sweep Gouge 5/8" (15 mm) - No. 5
Chisel 5/8" (15 mm) - No. 1

The Ashley Iles Canterbury Set
This 12 piece set contains the six basic tools of the York Set, plus supplementary set No. 1.

The Ashley Iles Westminster Set
This set comprises 18 pieces, 12 of these are the Canterbury Set plus 6 from Supplementary Set No. 2.

The Ashley Iles Exhibition Set
This set comprises of 24 pieces, 18 tools from the Westminster Set plus Supplementary Set No. 3.

Ashley Iles Supplementary Set No. 1
Curved Gouge 1/2" (12 mm) - No. 15
Straight Gouge 3/4" (19 mm) - No. 4
Straight Gouge 3/8" (9 mm) - No. 5
Straight Gouge 1/2" (12 mm) - No. 9
Straight Gouge 1/4" (6 mm) - No. 4
Corner Chisel 3/8" (9 mm) - No. 2

Ashley Iles Supplementary Set No. 2
Straight Gouge 1/16" (1.5 mm) - No. 6
Straight Gouge 1/8" (3 mm) - No. 5
Straight Gouge 1/8" (3 mm) - No. 9
V Tool 1/8" (3 mm) - No. 39
Curved Gouge 3/16" (4.5 mm) - No. 18
Chisel 1/8" (3 mm) - No. 1

Ashley Iles Supplementary Set No. 3
Straight Gouge 3/16" (4.5 mm) - No. 11
Straight Gouge 3/8" (9 mm) - No. 9
Straight Gouge 5/8" (15 mm) - No. 3
Straight Gouge 3/4" (19 mm) - No. 6
Grounding Tool 1/4" (6 mm) - No. 47
Curved Gouge 3/8" (9 mm) - No. 14