---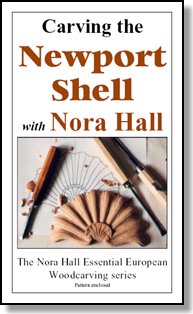 Carving the Newport Shell
with Nora Hall
European Master Woodcarver and teacher Nora Hall applies her skills to a distinctly American form, the Newport Shell.
One of the most popular lessons in Nora Hall's DVD series, the Newport Shell allows students unparalleled opportunity to gain a more in-depth knowledge of Nora Hall's European Master Woodcarving techniques, passed down from master woodcarvers in her native Holland. Nora Hall carefully breaks down each segment using extremely clear, close-up video footage as she carves the Newport Shell from start to finish.
You will learn about:
* Layout of the Shell
* Controlling the V-Tool for delicate cuts
* Scalloped carving techniques
* Use of the shallow gauge tools
* Precise tool and hand placement

This video is also available with a full size plaster study casting of Nora Hall's Newport Shell that serves as an extremely useful reference for students as they carve their own shell.