---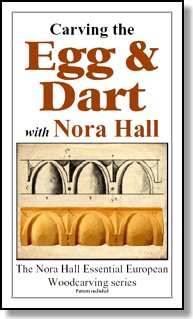 Carving Egg and Dart
with Nora Hall
For 30+ years Internationally recognized Master Woodcarver, Nora Hall, has taught students nationwide how to carve the beautiful Egg and Dart design.
You will be amazed just how quickly you master Nora's simple step by step techniques and rules-of-thumb . Each step is covered in detail with close-up footage. Nora Hall's informal, relaxed teaching methods will put you at ease and build confidence as you apply a fresh new arsenal of techniques to your future woodcarving projects.
This video is also available with a full size plaster study casting of Nora Hall's Egg and Dart carving that serves as an extremely useful reference for students as they carve their own Egg and Dart.