---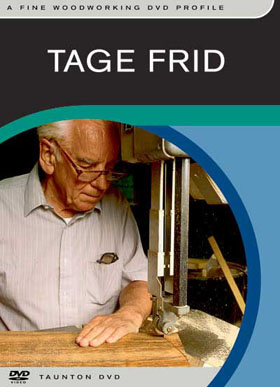 Woodworking Profile of Tage Frid
The next best thing to a private lesson
Tage Frid is known as the "Dean of American Woodworking." Over his 50-year career as a woodworker, educator, and author, he helped thousands learn woodworking. This DVD video is an opportunity to visit the master in his shop and home and listen to him as he shares his wisdom.
Never before released in its entirety, this documentary shows Frid as he builds several pieces and discusses how his philosophy of designing around construction plays into his work. Frid also demonstrates such woodworking basics as sharpening a chisel and cabinet scraper as well as how to make multiple spline joints and cut half-blind dovetails. Two bonus segments on laminating in form to make salad servers and veneering a coffee table are also included.
Every classic Fine Woodworking DVD takes you right into an expert woodworker's shop. You'll see firsthand exactly how to do the work—the tools, the techniques and the subtle rhythms of each process. Now re-issued in DVD format, this timeless information is even more accessible. Go directly to the chapter you want to watch and replay it as often as you want.