---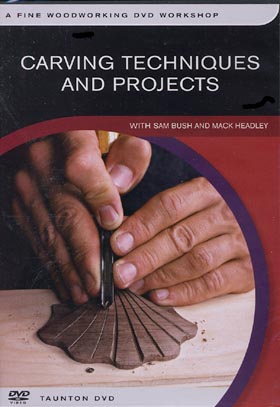 Carving Techniques and Projects
with Sam Bush and Mack Headley
A solid foundation in traditional methods. Now you can acquire the satisfying skill of carving wood. In this tape you'll discover the basics of woodcarving, see how to carve an 18th-century scallop shell and gain an understanding of the production techniques of that era.
You will learn about:
* designing for letter carving
* selecting and sharpening carving tools
* carving roman and italic letters
* relief carving
* outlining
* molding (bordering)
* backgrounding
* modeling and contouring
* defining the wings
* carving the convex and concave rays
* finishing the shell
Sam Bush has been a woodworker for over 30 years. He operates a custom shop in Portland, Oregon, and gives frequent workshops. Mack Headley, Jr., who specializes in 18th-century furniture making, is Master Cabinetmaker at Colonial Williamsburg.